Harvest Fires
Crop and header fires carry a significant financial impact on rural communities. During Summer 2016-17 an estimated 40 headers were lost in NSW alone with an average cost of $750,000 per unit. That's approximately $30 million in losses plus additional impact of lost crops.
Your Crop = Your Decision
It is your responsibility to limit the ignition and prevent the spread of fires from your property. This includes fires that may start due to harvesting operations.
The NSW RFS provides a number of tools to help farmers make the right decisions about harvesting operations that will reduce the risk of fires starting and spreading. These include Harvest Safety Alerts and the Grain Harvesting Guide.
Harvest Safety Alerts
Compare this result with the wind speed you recorded.
This year, a Harvest Safety Alert may be issued for your district when necessary. Harvest Safety Alerts provide a signal to farmers that they should be taking extra precautions during harvesting operations to prevent the ignition and spread of fire due to the prevailing weather conditions.
These alerts replace Cease Harvests that were previously issued, and the decision to issue a harvest safety alert continues to be made locally.
Harvest Safety Alerts will be promoted via local radio and the NSW RFS Website.
If a Harvest Safety Alert is issued for your area you should:

Grain Harvesting Guide
A very simple tool, the Grain Harvesting Guide enables farmers to measure their local weather conditions and determine if they should continue or delay harvesting operations due to fire risks.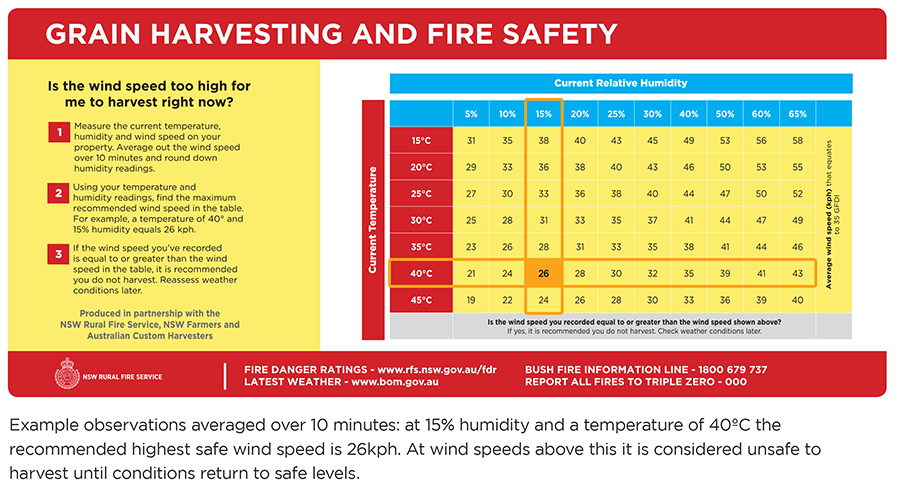 The Grain Harvesting Guide has been adopted following its successful implementation by the South Australian Country Fire Association. Trialled across Southern NSW in collaboration with NSW Farmers and the Australian Customer Harvesters, it received very positive responses from farmers who supported its adoption more broadly.
You can pick up a Grain Harvesting Guide Sticker from your local Fire Control Centre.
Downloads
---