Haystack Fires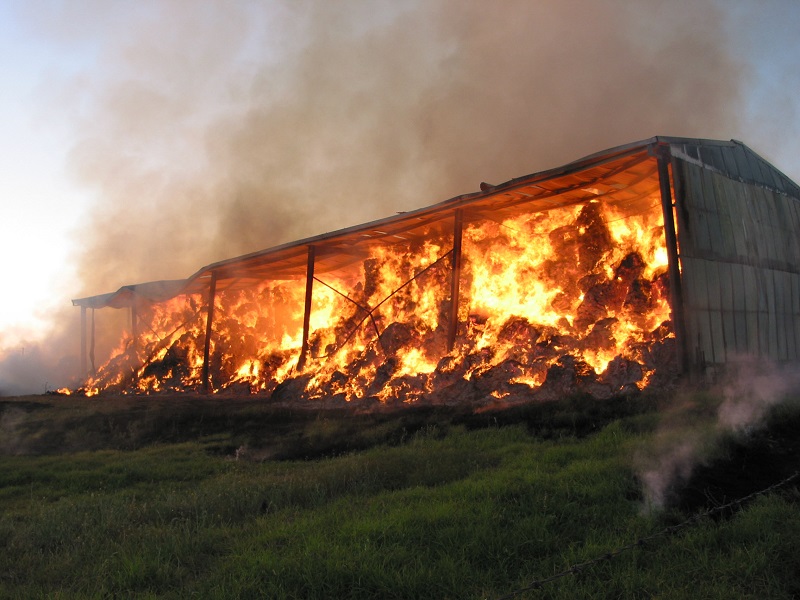 Haystack fires can be costly for farmers, destroying valuable assets like crops, machinery and fencing.
Many haystack fires can start without you even knowing, and for no apparent reason.
The process for spontaneous combustion is complex but can happen easily.
When hay is harvested or collected, there may be moisture present. This moisture may be present inside the hay, or on the outside. Over time, as the hay comes into contact with oxygen, this moisture can transfer into heat.
Haystacks can also catch alight due to sparks from machinery, or from hot exhausts or burning material like cigarettes.
How to check haystacks
Check that hay has dried or cured sufficiently before baling.
An easy way to check if a haystack is at risk of fire is by inserting a metal rod or stake into the hay.
If the rod or stake comes out and is hot, you may have a problem.
Closely monitor haystacks, particularly in hay sheds.
You can also reduce the risk by ensuring hay is stored in several locations on your property.
Also, protect your valuable investment by keeping machinery well away from the hay. Don't store machinery close to haystacks.
Finally, it's a good idea to mow and maintain firebreaks around your stored haystacks.
More information
Download this Haystack Fire Fact Sheet from the Department of Primary Industries