Plan and prepare
Bush Fire and Your Home
While there are elements of bush fire that you cannot control, like the weather, there is a wide range of planning and preparation activities that you can undertake which will dramatically increase the chances of you, your family and your home surviving in the event of a bush fire, including the maintenance of adequate levels of insurance.
Bush Fire Safety for Bushwalkers
Be Prepared. If caught in a bush fire you may die.
Information for Travellers
Prepare an escape plan. If caught in a bush fire you may die.
Neighbourhood Safer Places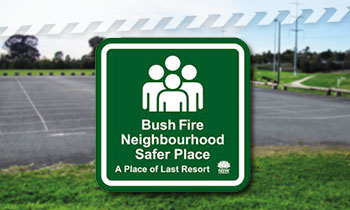 Neighbourhood Safer Places are a place of last resort during a bush fire emergency.
They are to be used when all other options in your bush fire survival plan can't be put into action safely.
You should be aware of any Neighbourhood Safer Places in your area, and note them in your bush fire survival plan before a bush fire occurs. You should also know how to get there, as well as alternate routes in case the road is blocked or too dangerous to drive on.
Not all areas will have a Neighbourhood Safer Place. If there is no Neighbourhood Safer Place in your area, you should identify other safer locations you can go to as a last resort. This might include a nearby home which is well prepared, a shopping centre or oval which is well away from the bush.
A Neighbourhood Safer Place is designed as a Place of Last Resort in bush fire emergencies only. Please note that travelling to or sheltering at a Neighbourhood Safer Place does not guarantee your safety.
Northern Beaches Local Government Area
| Title | Type | Location | LGA |
| --- | --- | --- | --- |
| North Balgowlah Community Centre | Building | Corner of Bardoo Avenu and Wonga Street, North Balgowlah | Northern Beaches |
| Forestville Memorial Hall | Building | Cnr of Warringah Road and Starkey Street, Forestville | Northern Beaches |
| Abbot Road Fields | Open Space | Abbot Road, North Curl Curl | Northern Beaches |
| Brookvale Park | Open Space | Federal Parade, Brookvale | Northern Beaches |
| Beverley Job Reserve | Open Space | McIntosh Road, Naraweena | Northern Beaches |
| Patanga Reserve | Open Space | Patanga Road, Frenchs Forest | Northern Beaches |
| Bambara Reserve (Belrose Oval) & Belrose Community Centre | Open Space | Forest Way (near Bambara Road), Belrose | Northern Beaches |
| Lionel Watts Oval | Open Space | Blackbutts Road, Forestville | Northern Beaches |
| Cromer Park | Open Space | South Creek Road, Cromer | Northern Beaches |
| St Mathews Farm Reserve | Open Space | Grover Avenue, North Cromer | Northern Beaches |
| Vic Huxley Oval (Collaroy Plateau Oval) | Open Space | Blandford Street, Collaroy Plateau | Northern Beaches |
| Kurara Reserve | Open Space | Kurara Close, Terrey Hills | Northern Beaches |
| Woolgoolga Reserve | Open Space | Woolgoolga Street, North Balgowlah | Northern Beaches |
| The Greenway Reserve | Open Space | The Greenway, Duffys Forest | Northern Beaches |
| Allambie Heights School - Community Centre | Building | 165 Allambie Road, Allambie Heights | Northern Beaches |
| Belrose Public School | Open Space | Cotentin Road, Belrose | Northern Beaches |
| Frank Beckman Reserve | Open Space | Yulong Avenue, Terrey Hills | Northern Beaches |
| Killarney Heights Oval | Open Space | Starkey Street and Melwood Avenue, Forestville | Northern Beaches |
| Millers Reserve | Open Space | Campbell Parade, Manly Vale | Northern Beaches |
| Passmore Reserve | Open Space | Campbell Parade, Manly Vale | Northern Beaches |
| Truman Reserve | Open Space | Corner of Macquarie Street and Toronto Avenue, Cromer | Northern Beaches |
| Terrigal Reserve | Open Space | Terrigal Road, Terry Hills | Northern Beaches |
| Northern Beaches Indoor Sports Centre | Building | Namona Street, Mona Vale | Northern Beaches |
| Nelson Heather Centre | Building | 4 Jacksons Road, Warriewood | Northern Beaches |
| Pittwater Rugby Park | Building | 1472 Pittwater Road, Warriewood | Northern Beaches |
| Mona Vale Golf Club | Building | Golf Avenue, Mona Vale | Northern Beaches |
| Pittwater RSL | Building | 82 Mona Vale Road, Mona Vale | Northern Beaches |
| Kitchener Park Sports Centre | Building | 1610 Pittwater Road, Mona Vale | Northern Beaches |
| Mona Vale Memorial Hall | Building | 1606 Pittwater Road, Mona Vale | Northern Beaches |
| Pittwater Place | Building | 10 Park Street, Mona Vale | Northern Beaches |
| Bayview Golf Club | Building | 1825 Pittwater Road, Bayview | Northern Beaches |
| Newport Arms Hotel | Building | Kalinya Street, Newport | Northern Beaches |
| Newport Park | Open Space | Bishop Street, Newport | Northern Beaches |
| Newport Community Centre | Building | 11 - 13 The Boulevarde, Newport | Northern Beaches |
| Newport Beach Surf Club | Building | 394 Barrenjoey Road, Newport | Northern Beaches |
| Lucinda Park | Open Space | Iluka Road, Palm Beach (opposite Nabilla Road) | Northern Beaches |
| Dunbar Park Reserve | Open Space | Old Barrenjoey Road, Avalon Beach | Northern Beaches |
| North Palm Beach Surf Lifesaving Club | Building | Governor Phillip Park, off Beach Road, Palm Beach | Northern Beaches |
| North Narrabeen Reserve Car Park (Pittwater Rugby Park) | Open Space | 1472 Pittwater Road, Warriewood | Northern Beaches |
| Kitchener Park | Open Space | 1610 Pittwater Road, Mona Vale | Northern Beaches |
| Dearin Reserve | Open Space | Cnr Kalinya Street and Gladstone Street, Newport | Northern Beaches |
| Newport Beach Reserve | Open Space | Barrenjoey Road, Newport Beach | Northern Beaches |
| Avalon Beach Reserve | Open Space | Barrenjoey Road, Avalon Beach | Northern Beaches |
| Whale Beach Surf Club | Building | Surf Road, Whale Beach | Northern Beaches |
| Winnererremy Bay Park | Open Space | Mona Street, Mona Vale | Northern Beaches |
| Church Point Reserve (Thomas Stephens Reserve) Carpark | Open Space | McCarrs Creek Road, Church Point | Northern Beaches |
| Bayview Park | Open Space | Pittwater Road (adjacent to Boat Ramp), Bayview | Northern Beaches |
| Lakeside Park | Open Space | Lake Park Road, North Narrabeen | Northern Beaches |
| Mona Vale Headland Reserve | Open Space | Coronation Street, Mona Vale | Northern Beaches |
| Cooleena Reserve | Open Space | 28-30 Cooleena Road, Elanora Heights | Northern Beaches |
| Apex Park | Open Space | Surfview Road, Mona Vale | Northern Beaches |
| Clontarf Reserve | Open Space | Sandy Bay, Clontarf | Northern Beaches |
| Manly Beach - South Steyne | Open Space | South Steyne, Manly | Northern Beaches |
| Balgowlah Oval | Open Space | Sydney Road, Balgowlah | Northern Beaches |
| Manly West Park | Open Space | Quirk Road, Manly West | Northern Beaches |
| Little Manly Beach | Open Space | Stuart Street, Little Manly | Northern Beaches |