Bush Fire Bulletin liftouts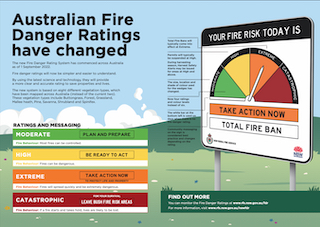 Australian Fire Danger Ratings have changed
The new Fire Danger Rating System has commenced across Australia as of 1 September 2022., making the ratings simpler and easier to understand.
This liftout will help you understand the new ratings and the associated messaging, as well as the science behind the ratings.
---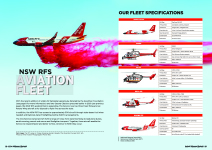 NSW RFS aviation fleet
This liftout gives an overview of the aerial assets in the NSW RFS fleet following the addition of a Bell-412 helicopter and two Cessna Citations. The Service now has three fixed wing and six rotary wing aircraft at tis disposal to fight fires across the state.
---

Upgrades and new signs for fire trails
If you've been down a fire trail in NSW recently, you might have noticed a brand new trail sign showing you the way. The new signs are part of the Service's Strategic Fire Trails Program.
This liftout explains the symbols and details on the new fire trail signs and provides information about the different categories of fire trails under the new classification.
---

CAD and status panels – what you need to know
As part of the Commissioner's nine priority projects, the NSW RFS is moving to Computer Aided Dispatch (CAD), a new integrated dispatch system that will improve our response time to incidents.
This liftout outlines how CAD works and providers an explainer for how to use the status panels recently installed in NSW RFS vehicles.
---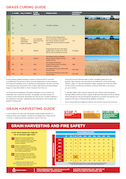 Grass curing and grain harvesting guide
Increased rain across the state has led to considerable grass and crop growth, and a heightened risk of grass and harvest fires.
This liftout provides a handy grass curing guide to measure the risk of grass fires, and a simple grain harvesting guide for farmers to assess fire risk in local conditions.
---

Pathway to professional care
After an unprecedented season, it is important that NSW RFS members recognise the impact on their mental health. This liftout outlines the ways members can reach out for assistance and provides some simple tips for maintaining mental wellbeing.
---

Introducing the 'Marie Bashir' 737 Large Air Tanker
The 'Marie Bashir' was unveiled at the RAAF base in Richmond in August 2019, the first LAT to be available year-round to fight fires in Australia. It can operate from a number of regional airports and reach any location in NSW in an hour.
---

Sun safety and skin cancer
NSW RFS members spend much time outside responding to incidents, attending training and at community engagement events. Being exposed to the sun puts you at risk of developing skin cancer. This poster can help you to detect melanomas by explaining where to look, what to look for and tips for prevention.
---

NSW RFS new constitution member classifications
The new NSW RFS Brigade Constitution took effect on 1 July 2018, helping to streamline the management of brigades and ensure individual brigades can maintain their local identity and rules. This handy poster outlines the new member classifications for the NSW RFS and the roles that members can perform.
---

How to prevent and treat dehydration and heat-related illness
Dehydration can seriously affect your abilities when attending an incident and, at worst, can cause serious illness or death. This guide gives helpful tips on how to avoid dehydration, recognise the symptoms and treat it, both in yourself and others.
---

Firebird 200 – a bird's eye view
Equipped with a 360 degree camera, Firebird 200 gathers and relays footage direct from the fireground. This poster outlines the helicopter's specs and gives an overview of some of the work the Firebird 200 does for the NSW RFS.
Download and print this PDF. It can be displayed as two A3 posters or a doubled sided poster. (Select double-sided printing, flip on short edge for best results.)
---

Identify and manage hazards around the home
Property assessments are a key part of engaging with your community about bush fire safety. Many brigades are actively and regularly visiting homes to help residents to identify and mitigate potential risks to their home and to guide them in developing a personalised bush fire survival plan. This guide provides a case study of many of the common household hazards and how they can be managed.
Download and print this PDF. It can be displayed as two A3 posters or a doubled sided poster. (Select double-sided printing, flip on short edge for best results.)
---

Introducing Air Tankers to the fleet
Large Air Tankers (LAT) and Very Large Air Tankers (VLATs) arrived in NSW for the 2015/16 fire season. Faster airspeed and larger fuel tanks enable LATs and VLATs to deliver more suppressants in a shorter time frame than the aircraft currently in use in Australia to date.The LAT/VLAT program is on trial in NSW for two years. An assessment of these aircraft and their effectiveness will determine which aircraft are contracted for the 2016/17 fire season. This Liftout, a double-sided poster, displays the features of these large aircraft that were in commission during the NSW 2015/16 fire season.
Download and print this PDF. It can be displayed as two A3 posters or a doubled sided poster. (Select double-sided printing, flip on short edge for best results.)
---